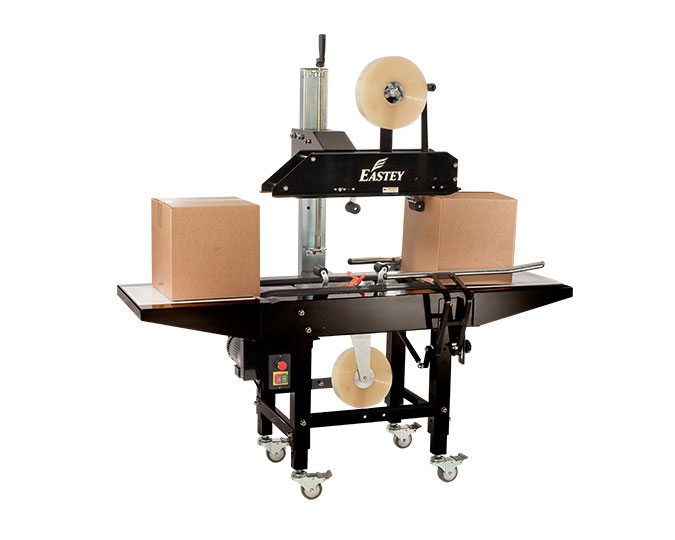 Eastey BB-2
Bottom Belt Case Taper
Get a cost-effective top and bottom case taper designed for large run case sealing. BB-2 features self-centering side rails, a rugged bottom belt drive, and heavy-duty mast that easily adjusts to handle a variety of case sizes.
Offering durability, versatility and reliability, the system's unique and simple design has proven to be one of the most reliable case tapers on the market today, keeping production and maintenance efforts to a minimum and providing fast and efficient alternatives to hand taping.
Get fast and easy case changes with adjustable side rails and flexibility ranging from 5" to infinite box length. Seal cases ranging from 6" to 21" in width, as well as 4" to 20.5" in depth. Adjustments can be made on the fly with easy hand tighten knobs on a single mast design. With an open design you can easily integrate with ink jet printers where coding is required on boxes.
Capabilities & Features
Sealer Type – Bottom belt, top and bottom case sealer
Machinery Makeup – Industrial strength 12 gauge steel, powdered coated for durability
Belt Speed – 60 feet/per minute
Casters – Rugged wheels for transportation within plant
Front & Rear Packing – Solid tables bolt before and/or after taping system to allow for case packing
Tape Speed – 30 cases/per minute, depending on box size and operator efficiency
Adjustable Side Rails – Palm grip knobs offer quick and simple adjustments
Height Adjustment – Standard adjustable legs for 22.25" to 35.25" conveyor heights
Tape Size – 2" wide pressure sensitive tape, up to 15" diameter rolls, optional 3" wide tape
Tape Cartridge – Proven design requires no lubrication, tips back for simple tape threading, removable for maintenance and interchangeable with top or bottom cartridges
Electrical Requirements – 110 VAC, 60Hz, 6A