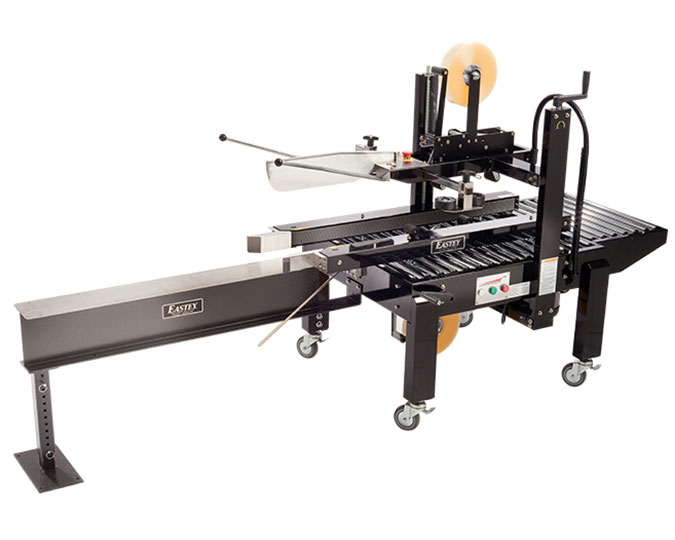 Eastey Easy Packer
Side Belt Case Sealing System
The side belt driven taper is designed for compact, packing and sealing. The durable design has proven to be one of the most reliable case tapers on the market today, providing a fast and cost efficient alternative to hand taping.
Designed with the customer in mind, the Easy Packer is supplied with extended side rails, flap closing bars, and a 48" anvil packing station (not shown) to assist with the packing and sealing process. Operation is simple: open the case and manually fold the bottom front and back minor flaps and place case on the anvil to be filled. Once filled, the operator pushes down and holds the top trailing minor flap while the box enters the machine to be sealed.
Get fast and easy case changes with adjustable side rails and flexibility for boxes 5" in length and greater. Adjustments can be made on the fly with easy hand tighten knobs and cranks. Easy Packer utilizes Eastey's Easy-Taper Quick-Load top and bottom tape cartridges and will seal boxes as narrow as 4.0" wide and as low as 4.0" tall.
Capabilities & Features
Sealer Type – Uniform side belt, top and bottom case sealer
Machinery Makeup – Industrial strength 12 gauge steel, powder coated for durability
Belt Speed – 75 feet/per minute
Tape Speed – 20 cases/per minute, depending on box size and operator efficiency
Height Adjustment – Standard adjustable legs for 20" to 32.3" conveyor heights
Tape Size – 2" wide pressure sensitive tape, up to 15" diameter rolls, optional 3" wide tape
Tape Cartridge – Proven design requires no lubrication, tips back for simple tape threading, removable for maintenance and interchangeable with top or bottom cartridges
Electrical Requirements – 110 VAC, 60Hz, 4.0A
Agency Approvals – CE Certification