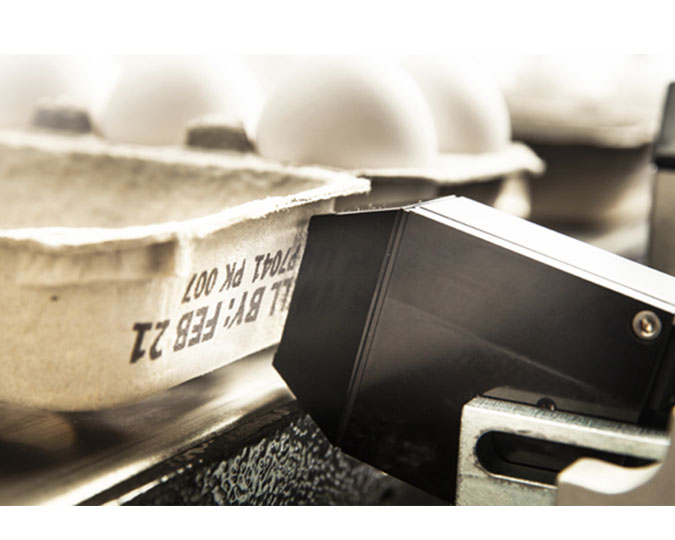 Squid Ink CoPilot Flex
High Resolution Printing System
Designed to print superior quality hi-resolution characters, razor-sharp text, real-time information, scannable bar codes, and great looking logos on pulp, foam, or PET egg cartons. With up to .7" of print height and the ability to print multiple lines of information in a single pass, the CoPilot Flex is designed to streamline your printing process.
Capabilities & Features
Print Technology – Piezo impulse printhead technology
Maximum Print Height – .7" (1.8 cm) per printhead
Vertical Print Resolution – 185 dpi capable of printing razor-sharp graphics, small character text, and scannable bar codes
Horizontal Print Resolution – 205 dpi
Print Speed – Up to 135 feet/min. (41 m/min.) @ 205 dpi standard, optional high speed printhead up to 200 feet/min (60 m/min)
Time & Date – Internal real time clock with battery back-up
Product Sensor – External diffuse beam photocell standard
Communication Interface – One USB host and one Ethernet input
Touchscreen – 4.3" (10.9 cm) full color touchscreen display
Ink Cartridge Volume – 200ml cartridge
Low Ink Indicator – Status alert on touchscreen, LED light beacon optional
Substrate Capabilities – Non-Porous surfaces
Electrical Requirements – 100 – 240 VAC, 50/60 Hz
Operating Environment – 34°F – 104°F (1° – 40°C)
Conveyor Mounting Bracket – Provides stable mount to conveyor or other material handling equipment
Minimal Footprint, Maximum Results
Engineered for simple integration on your existing egg packing line or wherever space constraints are an issue, the system's unique and compact design allows for narrow mounting in nearly every zone of your egg packing process which eliminates the need for after-market engineering or time-consuming modifications to your existing conveyor. CoPilot Flex's small printhead adjusts to match the slope of the carton to ensure a quality hi-resolution print. The system is capable of inverting your printed message, meaning you can print your cartons in the open or closed carton zone. At print speeds of up to 135 ft/minute, keep your production moving.
Keep Your Production Running
CoPilot Flex's 200ml ink cartridge contains nearly 5 times the amount of ink compared to many competitor's cartridges. The increased ink volume and convenient cartridge design result in less frequent changeover and reduced production downtime. Even better, Squid Ink's SI-PZ4200 solvent-based ink has been designed and tested for excellent adhesion properties on pulp, foam, and clear PET egg cartons while providing dark print that is easy to read.