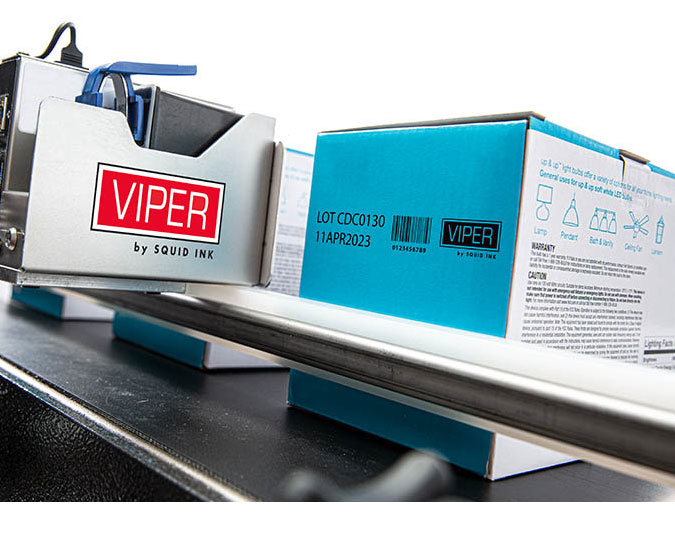 Squid Ink's Viper™
Thermal Inkjet Printer
Utilizing revolutionary Funai® technology, this thermal inkjet printer is able to print superior quality hi-resolution characters on porous or non-porous surfaces. With up to 0.5" (12.7mm) of print height per printhead, the Viper offers a versatile, yet cost-effective solution for your coding and marking applications.
Capabilities & Features
Thermal inkjet technology from Funai
0.5" (12.7mm) per printhead
Vertical Print Resolution – 300 or 600 dpi capable of printing razorsharp graphics, small character text, and scannable bar codes
Horizontal Print Resolution – 50 dpi to 900 dpi
Print Speed – Up to 197 fpm (60 m/min) at 300 dpi standard; up to 787 fpm (240 m/min) at 300 dpi optional
Communication Interface – One USB host, one Ethernet input, one 15-pin D-sub serial port for power/external photocell/encoder
Touchscreen – 8.9" (22.6 cm) full color touchscreen PC with Windows 10 Operating System; pre-loaded with Sirius™ software
Conveyor Mounting Bracket – Provides stable mount to conveyor or other material handling equipment
Ink Cartridge Volume – 46ml cartridge
Print on a variety of porous or non-porous surfaces
Designed for Your Application
The Viper TIJ printing system features a 8.9" full-color touchscreen PC that gives users access to the printer's internal messages and print functions. The touchscreen allows users to create and edit messages using Squid Ink's intuitive Sirius™ PC software. It is ideal for users who want message creation and editing functionality on the production floor or in the office. For users that print on many different products, the system features 2GB of storage allowing users to program and save thousands of messages for easy retrieval. Best of all, the Viper includes advanced software out of the box that allows users to print date codes, lot numbers, bar codes and more.
Substrate Versatility
Viper TIJ utilizes performance no-mess ink cartridges to print up to 600 dpi hi-resolution codes on a variety of porous and non-porous surfaces, coated and non-coated stocks, plastic, polystyrene, films, foils, metals, glass, and several other porous or non-porous substrates. The Viper is ideal for users looking to print permanent marks that dry in seconds on glossy cartons, cases, trays, plastic containers, and more.