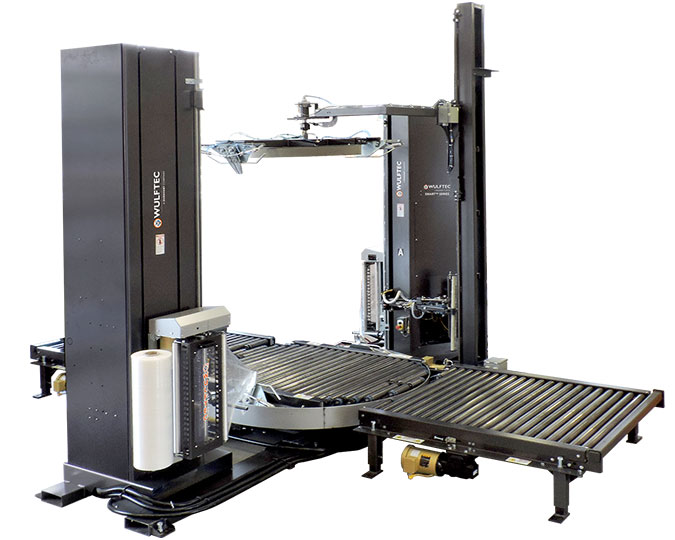 Wulftec Automatic Turntable WCA-TWIN
Stretch Wrapper
With the dual towers/dual carriages, combine the stability and load containment of an X-pattern while achieving the speed of a one-way wrap. While one of the carriages wrap from bottom up, the other carriage wraps from top to bottom; reducing the number of rotations while achieving the same load containment as a conventional dual-way wrap.
Use one tower and one carriage to wrap the bottom load while the second tower and second carriage wraps the top load separately; obtain two individually wrapped loads simultaneously. Apply the same amount of stretch film with fewer revolutions by using the two film carriages to wrap a single load.
Wulftec offers the best warranty in the industry:
Equip one of the carriages with pneumatic roping or banding to increase load containment with a minimum number of rotations; increased efficiency. Also secure the top and bottom portion of the load during the first rotation to improve load stability.
10-years on the ring gear bearing
10-years on the steel structure
Capabilities & Features
NO-THREAD® film carriage with maintenance-free spring loaded gate
Top platen allows high speed rotation while keeping the product stable
Up to 22 RPM turntable rotation for increased throughput
Automatic Recipe Selection with Ethernet communication will automatically select from 1 of 16 wrap patterns when there is a product change at the palletizer.
NEMA 4/12 control cabinet with quick disconnect
Manual functions for turntable rotation fwd/rev and carriage up/down
Intuitive alarms diagnostic on touch screen
230/460VAC Motors with AC variable frequency drives
Allen Bradley PanelView Plus 7 6" color touch screen interface
Fwd / rev function comes standard with the AC drives option
Film force to load control
Separate up and down carriage speeds