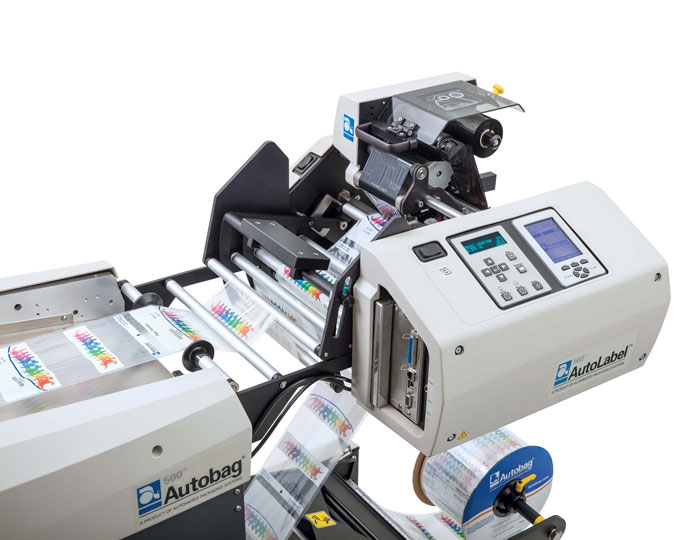 AutoLabel 500™
Thermal Transfer Printer
The AutoLabel 500™ thermal transfer printer enables inline printing of graphics, text and barcodes directly on the Autobag® bag, eliminating the need for a separate labeling operation.
This printer supports both linear and 2D barcodes in a wide variety of symbologies for maximum flexibility in product identification, tracking and compliance labeling. Resident and downloadable fonts are ideal for lot or date codes and other human-readable product information; while high resolution graphics printing allows visual verification and branding on the package, as well. The AutoLabel 500 prints labels up to 4" wide x 20" long. Print registration is guaranteed within 1/16" and Target Registration Control enables precision adjustments while the printer is running.
The tilting printhead makes changeover and printhead maintenance easy. A Ribbon Saver feature minimizes empty space between labels, eliminating waste. System-matched AutoLabel Thermal Transfer Ribbon resists scratching, smearing and flaking for durable, crisp, high quality labels. These thermal transfer ribbons extend printhead life and are specially made for use on poly bags.
The AutoLabel 500 uses AutoLabel Designer™ label creation software, which makes it easy to design and manage custom labels. Enhanced database connectivity enables networked label storage, sharing and printing.
Connect with the Autobag 500™ bagging system to get a complete Print-n-Pack™ system.
Optional Additions: AutoLabel Designer label creation software, printhead alignment tool, and spare parts kit
Capabilities & Features
Tilting printhead simplifies maintenance
Prints high resolution graphics, text and barcodes directly on the bag
Makes precise location adjustments while the printer is running
USB, ethernet, serial and parallel port connectivity
Printhead resolutions available at: 203 dpi, 300 dpi and 406 dpi, each capable of printing at speeds up to 8" per second
Supports over 40 bar codes, including 2D barcodes and True-type fonts
Thermal transfer ribbons ensure the highest print quality on Autobag bags and extend printhead life
Bag Size: W 2 to 12 in. L * 2.5 to 20 in. (36 in. L unsupported)