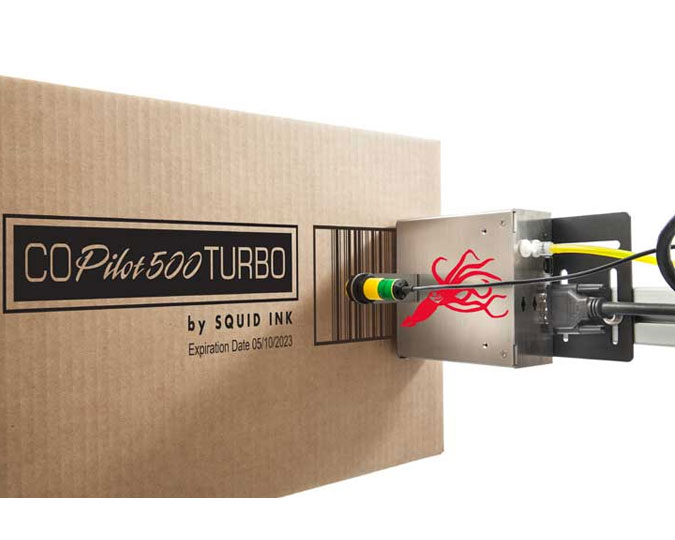 Squid Ink CoPilot 500 Turbo
High Resolution Outer Case Coding
Squid Ink's CoPilot 500 Turbo printing system is designed to print superior quality hi-resolution with up to 2.8" of print height per printhead and the ability to run up to 2 printheads from one controller. The CoPilot 500 offers a versatile, yet cost effective solution for your coding and marking applications.
The CoPilot 500 Turbo is designed to meet the harsh demands of your application. The printer features a durable touchscreen, industrial strength print head construction, and simple ink delivery system for industrial applications. You can be confident that CoPilot 500 Turbo's rugged design will withstand the most abusive industrial environments while providing superior quality print. The CoPilot 500 Turbo also features a large 500ml cartridge. The generous ink volume allows users to keep their line running, reducing downtime and maximizing ROI.
The CoPilot 500 Turbo controller features increased processing power to print the messages you want, when you want to print them. Faster GUI response time and near immediate message rendering times allow the equipment to keep up with demands of your fast-paced manufacturing environment.
Capabilities & Features
Print Technology - Piezo impulse printhead technology
Maximum Print Height - 2.8" (7.1 cm) per printhead, 5.6" (14.2 cm) total
Vertical Print Resolution - 185 dpi capable of printing razor-sharp graphics, small character text, and scannable bar codes
Horizontal Print Resolution - 205 dpi
Print Speed - CoPilot 500 (oil-based) 205 ft/min; CoPilot 500HS (oil-based) 300 ft/min; CoPilot 500 (solvent-based) 150 ft/min
Time & Date - Internal real time clock with battery back-up
Product Sensor - External diffuse beam photocell standard
Communication Interface - One USB host and one Ethernet input
Touchscreen - 4.3" (10.9 cm) full color touchscreen display
Ink Cartridge Volume - 500ml cartridge or bag
Low Ink Indicator - Status alert on touchscreen, LED light beacon optional
Substrate Capabilities - Porous or non-porous surfaces
Operating Environment - 34°F - 104°F (1° - 40°C) oil-based; 62°F – 100°F (17° – 37°C) solvent-based
Electrical Requirements - 100 - 240 VAC, 50/60 Hz
Agency Certifications - CE, TUV, FCC
Application Versatility
The system is capable of running oil-based or solvent-based inks to print up to 5.6" (2.8" from a single head) of hi-resolution characters, razor-sharp text, scannable bar codes, and great looking logos at 180 dpi. For non-porous applications, users have the option of utilizing Squid Ink's solvent-based ink to print on a variety of non-porous products like coated cartons, polystyrene, and more. The PZ-1000 ink for porous substrates offers ultra-low maintenance, eliminating the need for auto-priming functions and offering better ink utilization than competitive systems.