Functional and Innovative Protective Packaging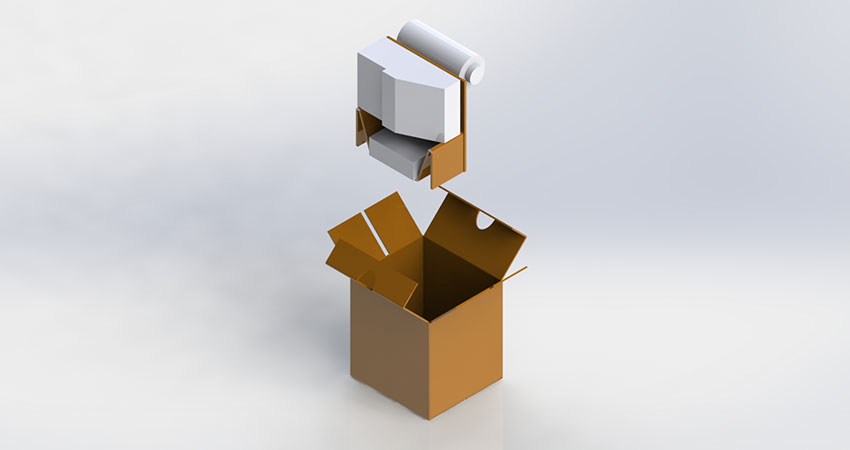 Highlighted Product
Protective Corrugated Pack
A traditional box would need to be cut open and resealed – eliminating these two steps will generate roughly 25% in savings from the reassembly.
A company that develops advanced paint applicators came to Shippers Supply with a unique problem. Our customer was packaging a residential paint sprayer in another country and shipping them by the thousands back to the US. However, this sprayer needed a component made in the US to be added to the box when it came back. Our customer preferred to have a package where some components were locked in place on one side allowing the other side flexibility to add another part, but this required opening the box.
Shippers Supply created concepts and prototypes with the final solution being a unique box that has a slip sheet between the sides of the packaging that is friction-fit in place by the major flaps and parts. The box can now be opened without the need to cut tape or retape to seal back up. To the keep the various parts free from damage, we utilized inserts to keep from rubbing or damaging other parts within the package. In addition, we made the overall box smaller allowing the customer to ship more boxes in the cargo container and save costs.
Our protective packaging solution offered the customer flexibility with their process and added protection to their products. A high amount of cost savings were realized with the reduction in labor plus shipping costs were saved with a more practical, smaller package. Taking advantage of custom designed packaging helped this company's business operations and efficiencies.
Smarter

Package

Our designed packaging solution exceeded the customer's expectations. Taking advantage of our industry experience and collaborating on the overall process from initial concept to prototype to production proved invaluable to our customer.
Your Custom Packaging
From simple designs to more complex projects, we design the packaging to fit your unique products.
or