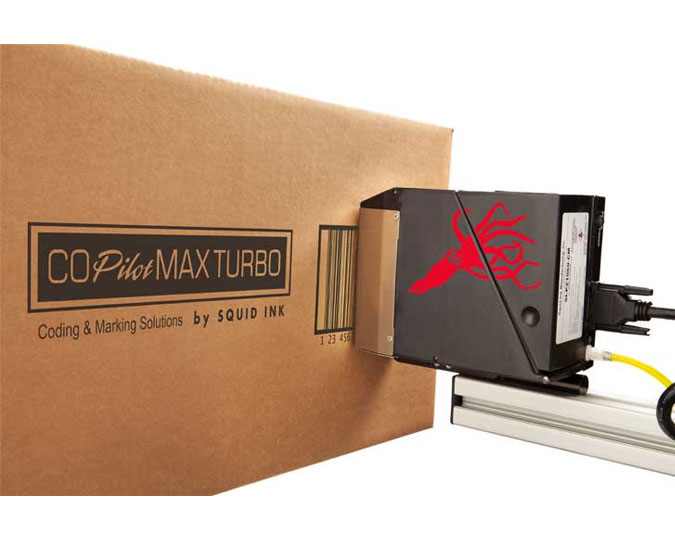 Squid Ink CoPilot Max Turbo
Hi-Resolution Printing System
Designed to print superior quality hi-resolution characters on porous or non-porous surfaces. For applications that require immediate dry times on non-porous surfaces, the CoPilot Max Turbo also has the capability to run UV LED curable inks. With up to 2.8" of print height per printhead and the ability to run up to 2 printheads from one controller, this offers a versatile, yet cost effective solution for your coding and marking applications.
CoPilot Max Turbo utilizes Squid Ink's revolutionary active ink system, allowing users the ability to tilt or rotate the printhead in any direction without making height adjustments to the ink supply. The system prints hi-resolution characters, razor-sharp text, scannable bar codes and great looking logos at up to 360 dpi, nearly twice the resolution of competitive printers in its class.
The controller features increased processing power to print the messages you want, when you want to print them. Faster GUI response time and near immediate message rendering times allow this machine to keep up with demands of your fast-paced manufacturing environment.
Capabilities & Features
Print Technology – Piezo impulse printhead technology
Maximum Print Height – 2.8" (7.1 cm) per printhead
Vertical Print Resolution – 360 dpi capable of printing razor-sharp graphics, small character text, and scannable bar codes
Horizontal Print Resolution – 150 dpi or 300 dpi
Print Speed – Up to 220 ft/min at 150 dpi; Up to 110 ft/min at 300 dpi
Time & Date – Internal real time clock with battery back-up
Product Sensor – External photocell or optional encoder
Communication Interface – One USB host and one Ethernet input
Touchscreen – 4.3" (10.9 cm) full color touchscreen display
Ink Cartridge Volume – 500ml cartridge
Low Ink Indicator – Status alert on touchscreen, LED light beacon optional
Substrate Capabilities – Porous or non-porous surfaces
Electrical Requirements – 100 – 240 VAC, 50/60 Hz, 65W max
Operating Environment – 34°F – 104°F (1° – 40°C)
Agency Certifications – CE
Affordable Product Coding
The CoPilot Max Turbo lets users meet the GS1 barcode specification for less. CoPilot Max consumable costs are typically 1/10 of the cost of paper labels, and eliminate pre-printed cartons and SKUs of label inventory. Any way you look at it, Squid Ink's CoPilot Max provides users with an affordable solution to meet their ink jet coding needs.