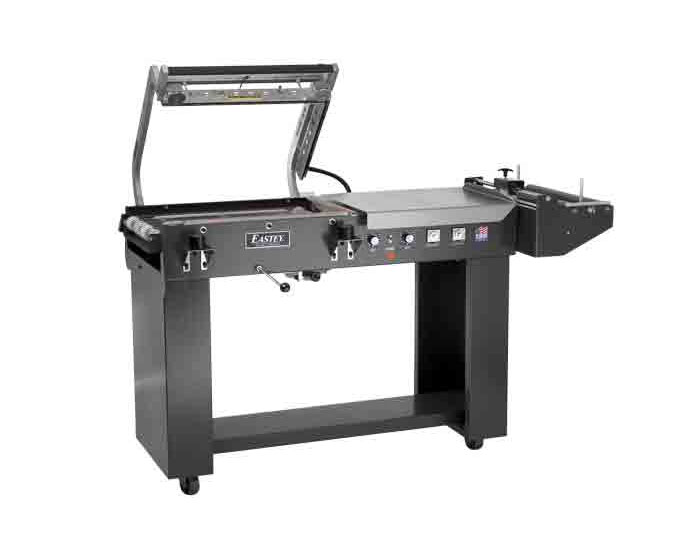 Eastey Performance Series L-Sealers
Shrink Wrap System
Proven reliable over and over again, these intermediate level EASTEY L-Sealers provide you with all the quality features found in much higher priced machines. They are designed and built to give you all the performance features needed for positive sealing a wide variety of films including polyolefin, polyethylene, and PVC.
EASTEY Performance Series L-Sealers are expertly welded on 12 gauge steel frames and designed to handle the day to day abuse of manual sealing in most shrink wrap applications. Cast seal arms, stainless steel film clamps, and heavy-duty dual magnet clamping are just some of the features that provide the durability you have come to rely on from EASTEY. See for yourself why EASTEY has been a leader in the shrink packaging industry for over 25 years.
Models: EM1622T, EM1622TK, EM1636T, EM1636TK
Capabilities & Features
Designed to seal most polyolefin, polyethylene, and PVC* shrink films
Seal head casting equipped with head return cylinder
Stainless steel film clamps hold film in place while sealing
Stainless steel film clamps hold film in place while sealing
Hot knife seal systems available with mushroom (standard), pancake, arrow, or poly inserts
Dual locking magnet clamps apply even pressure across seal bar
Adjustable dwell time for better seal control
Adjustable product tray accommodates a wide variety of product sizes
Takeaway conveyor can be raised or lowered to center-seal product
Heavy duty film roll support and simple film loading
Adjustable pin perforator provides air evacuation
Easy to use design requires minimal training and maintenance
Maximum film width up to 19"