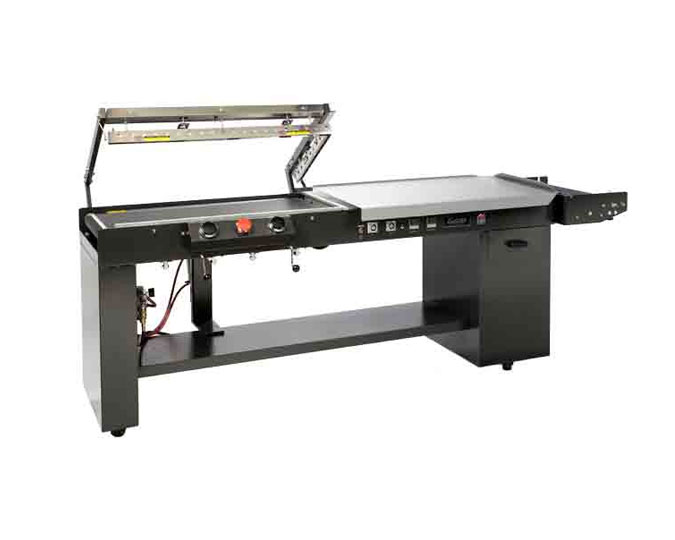 Eastey Professional Series Pneumatic L-Sealers
Shrink Wrap System
EASTEY's Professional Series ESA L-Sealers provide top of the line features and the most robust L-Sealer design on the market today. Expertly welded from ¼" cold rolled steel, EASTEY Professional ESA L-Sealers will withstand even the most abusive real world sealing applications. As a measure of strength, EASTEY L-Sealers weigh nearly twice as much as competitive models.
Eastey L-Sealers are designed and built to give you all the performance features needed for positive sealing a wide variety of films including polyolefin, polyethylene, and PVC. Cast seal arms, pneumatic operation, stainless steel film clamps, and heavy-duty magnet clamping are just some of the features that provide the durability you have come to rely on from EASTEY.
Models: ESA2016TK, ESA2028TK, ESA2040TK, ESA2050TK, ESA2070TK, ESA2080TK, ESA20100TK, ESA3040TK, ESA3050TK, ESA3070TK, ESA3080TK, ESA30100TK, ESA4040TK, ESA4050TK, ESA4070TK, ESA4080TK, ESA40100TK, ESA050TK, ESA5070TK, ESA5080TK, ESA50100TK
Capabilities & Features
Designed to seal most polyolefin, polyethylene, and PVC shrink films
Seal head casting equipped with head return cylinder
Stainless steel film clamps hold film in place while sealing
Dual palm pneumatic seal head activation
Hot knife seal systems available with mushroom (standard), pancake, or arrow inserts
Dual locking magnet clamps apply even pressure across seal bar
Adjustable dwell time for better seal control
Adjustable product tray accommodates wide variety of product sizes
Takeaway conveyor can be raised or lowered to center-seal product
Automatic takeaway conveyor
Heavy duty film cradle allows for easy changeovers and adjustments
Adjustable pin perforator provides air evacuation
Side seal size from 20" – 50"; front seal size from 16" – 100"
Maximum film width up to 44"
Maximum film roll OD up to 12"; 10" with power unwind
Available in 110v, 220v, or optional 480v
60-80 psi air requirement
Easy to use design requires minimal training and maintenance