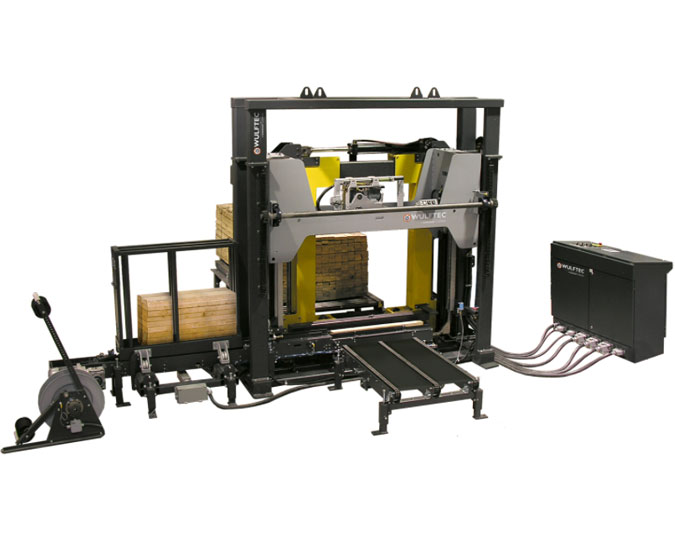 Wulftec LMB-250 Lumber Press
Strapping Machine
The LMB-250 Lumber Press is specifically tailored to the lumber and panel Industries. The hydraulic compression strapping system design facilitates maintenance and operation. Top and side compression ensures stable, tight loads that will retain high tension during transportation. The LMB-250 Lumber Press is easily integrated into existing production lines to create a seamless packaging system.
Wulftec offers the best warranty in the industry:
1-year on the strapping head and track
3-year unlimited cycle warranty
3-years on the steel structure
Capabilities & Features
NEMA 4/12 control panel dust tight and waterproof
Allen Bradley MicroLogix PLC and AC drives
All motors, proximity sensors, photoeyes and other sensors have quick disconnect cables that simplify installation and maintenance
Photoeyes are maintenance free and protected
User friendly touch screen offers a simple yet effective way to adjust and maintain your equipment
Up to 8 straps per minute may be applied, depending on strapping arch and package dimensions, strap quality and strap tension required
Coils of PET strapping with a core diameter of 16″ can be fitted to the high speed dispensers, with pulley block accumulation system and electrical brake.
Minimum Load Size: 32" W x 15" H
Maximum Load Size: 58" H x 60" W
Controls
Allen Bradley CompactLogix L24 PLC
Allen Bradley PanelView Plus 600 monochrome Touch Panel
24V control system
Current overload protection
NEMA 4/12 control cabinet with quick disconnect
Sick autoheight sensing photoeye with on/off mode
Power on/off lockable switch and indicator light
460VAC motors & variable frequency drives
Allen BradleyPowerFlex 525
Two emergency stop stations (1 on panel / 1 on platen)
Manual function for platen up/down and conveyor fwd/rev
Variable compression settings
Intuitive alarms diagnostic on touch screen
Machine and head cycle counters
Reset function
Strap track with under track allowing under pack strapping
2 fully adjustable strapping patterns
Alarm beacon
120 VAC outlet in control panel for service work
Strapping Head
GS41 HT strapping head
Possibility to strap with polyester from 3/8" to 5/8" wide
Consistently reproducible strap tensioning through an Allen Bradley Powerflex 70 VFD
Tension control with motor torque monitoring via the drive
Tension is adjustable on the HMI
Consistently high seal efficiency
Environmentally favorable sealing by vibration welding
Separate drive section for high speed strap feeding and take up to achieve maximum tension levels
Electronic strap circulation control
Accurate tension alignment of the strap
Precise and quick adjustment by automatic strap feeding unit
Top & Side Compression
Hydraulic compression pads for greater consistency and reliability
Compression controlled with pressure regulator on hydraulic units and pressure switch. Separate regulation for top and side compression
Compression speed controlled by flow regulator on hydraulic unit
Side compression using an oversized dual rack and pinion equalizer system
Maximum compression up to 25,000 lbs