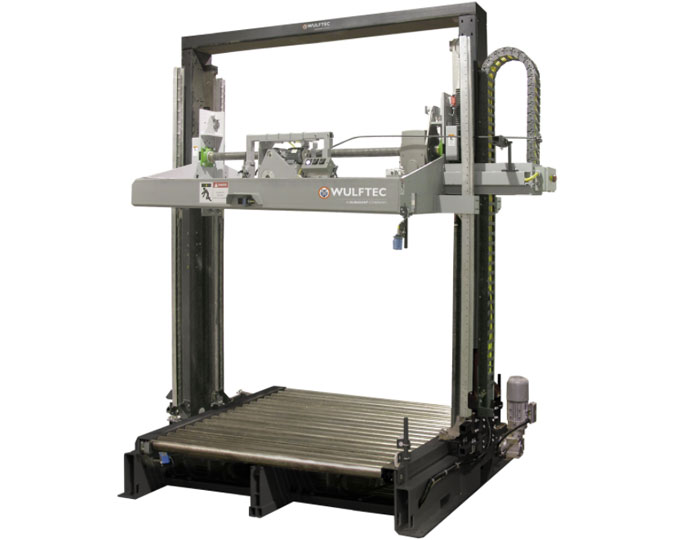 Wulftec PowerMaster
Strapping Machine
The PowerMaster is specifically tailored to the corrugated and printing industries — featuring an all-electric design that performs faster and more consistently, with fewer maintenance issues than competing products. The PowerMaster is easily integrated into existing production lines to create a seamless packaging system, including a wide variety of conveyors, turning devices, centering devices, printers, scanners, scales, etc.
Wulftec offers the best warranty in the industry:
1-year on the strapping head and track
3-year unlimited cycle warranty
3-years on the steel structure
Capabilities & Features
NEMA 4/12 control panel dust tight and waterproof
Portal size to allow max load size of 80" wide x 80" high
7.4 HP AC gear motor with Allen Bradley contactor
High speed dispenser with pulley block accumulation system and electrical brake that can fits standard coils of PET strapping with a core diameter of 16" and a width of 6".
Heavy duty folded sheet metal uprights with upper frame structurally integrated with base for greater stability
Allen Bradley MicroLogix PLC and AC drives
User friendly touch screen offers a simple yet effective way to adjust and maintain your equipment
Photoeyes are maintenance free and protected
The bottom section of the strapping arch can be a standard undertrack style or an electric motor driven pallet bayonet for "through-pallet" strapping or a combination of both.
Electronic tension control through a variable frequency drive. Assures consistent tension control regardless of the number of cycles and environmental conditions.
Coils of PET strapping with a core diameter of 16″ can be fitted to the high speed dispensers, with pulley block accumulation system and electrical brake.
Controls
Allen Bradley CompactLogix L24ER PLC with Ethernet switch
Allen Bradley PanelView 7 6" color touch screen
24V control system
Current overload protection
NEMA 4/12 control cabinet
Autoheight sensing photoeye
Power on/off lockable switch and indicator light
460VAC motor and contactor
Two emergency stop stations (1 on panel / 1 on the platen)
Manual function for strapping head and conveyors
Intuitive alarms diagnostic on touch screen
Machine and head cycle counter
Reset function
Strap track with under track configuration to allowing under pack strapping
16 fully adjustable strapping patterns with binary code communication signal
Variable compression setting from 1125lbs to 8800lbs
Allen Bradley PowerFlex 525 drive, 460VAC
Allen Bradley series 100 contactor
Alarm beacon
120 VAC outlet in control panel for service work
GT41 N Strapping Head
By changing the optional entry and exit guide the head have the ability to strap with polyester (PET) from 3/8 to 5/8 wide and .020 minimum thick strapping.
Consistently reproducible strap tensioning through an Allen Bradley PowerFlex 70 VFD and torque motor control
Consistently high seal efficiency
Environmentally favorable sealing by vibration welding
Separate drive section for high speed strap feeding and take up and to achieve maximum tension levels
Electronic strap circulation control