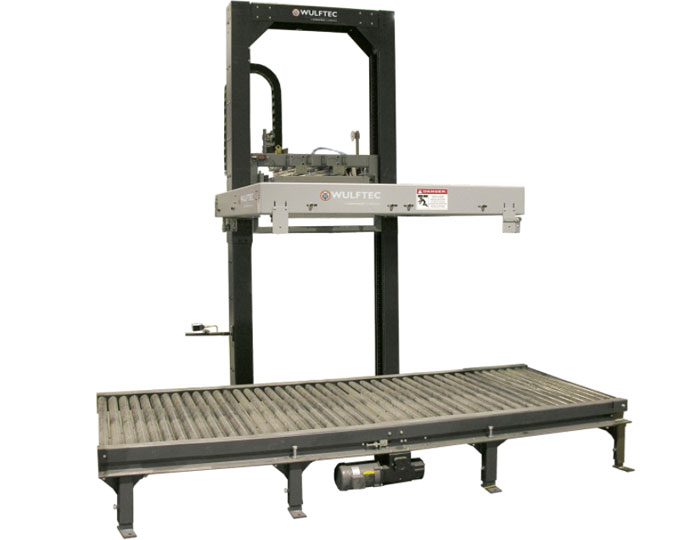 Wulftec VarioMaster 9490
Strapping Machine
Engineered with versatility and reliability in mind, the VarioMaster 9490 is a high performance automatic horizontal strapper designed to strap horizontal pallets and single layers. Featuring sturdy construction, low maintenance, easy operating, simple installation, strap positioning device, spring loaded strapping arch with safety shutdown and is chain driven. The VarioMaster 9490 is easily integrated into existing production lines to create a seamless packaging system.
Wulftec offers the best warranty in the industry:
1-year on the strapping head and track
3-year unlimited cycle warranty
3-years on the steel structure
Capabilities & Features
Production rate of 100 loads per hour
Horizontal arch size to allow max load size of 50" wide x 50" long and 80" high
3 HP AC gear motor with Allen Bradley Powerflex 525 AC drive
NEMA 4/12 control panel dust tight and waterproof
Allen Bradley MicroLogix PLC and AC drives
Photoeyes are maintenance free and protected
High speed dispenser with pulley block accumulation system and electrical brake that can fits standard coils of PET strapping with a core diameter of 16" and a width of 6"
The bottom section of the strapping arch can be a standard undertrack style or an electric motor driven pallet bayonet for "through-pallet" strapping or a combination of both
Electronic tension control through a variable frequency drive. Assures consistent tension control regardless of the number of cycles and environmental conditions
Up to 8 straps per minute may be applied, depending on strapping arch and package dimensions, strap quality and strap tension required
Coils of PET strapping with a core diameter of 16″ can be fitted to the high speed dispensers, with pulley block accumulation system and electrical brake
Controls
Allen Bradley CompactLogix L16ER PLC
Allen Bradley PanelView Plus 7 6" color Touch Screen Interface
24V control system
Current overload protection
NEMA 4/12 control cabinet
Autoheight sensing photoeye
Power on/off lockable switch and indicator light
460VAC motor and contactor
Two emergency stop stations (1 on panel / 1 on the platen)
Manual function for strapping head and conveyors
Variable compression setting from 150lbs to 2200lbs
Intuitive alarms diagnostic on touch screen
Machine and head cycle counter
Reset function
Strap track with under track configuration to allowing under pack strapping
2 fully adjustable strapping patterns
4 communications I/O signals with upstream & downstream system
Allen Bradley PowerFlex 525 drive, 460VAC
Allen Bradley series 100 contactor
Alarm beacon
120 VAC outlet in control panel for service work
GT41 N Strapping Head
By changing the optional entry and exit guide the head have the ability to strap with polyester (PET) from 3/8 to 5/8 wide and .020 minimum thick strapping.
Consistently reproducible strap tensioning through an Allen Bradley PowerFlex 70 VFD and torque motor control
Consistently high seal efficiency
Environmentally favorable sealing by vibration welding
Separate drive section for high speed strap feeding and take up and to achieve maximum tension levels
Electronic strap circulation control
The strapping head is mounted on a movable assembly guided through linear bearings, and activated by an electric motor with a timing belt. The head has a load sensing device that detects the side of the load and tells the head movement to stop so tensioning and welding are done as close as possible to the product for maximum strap containment efficiency.