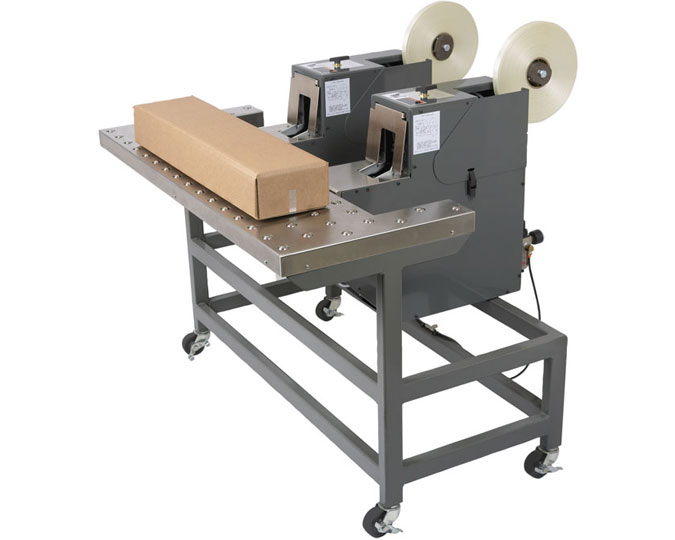 3M-Matic™ S-867 & S-867 II
L-Clip Applicators
Starting with the same features as the S-867, the S-867 II dual head configuration simultaneously applies two L-Clips side by side as close as 8" apart. Packages are easily moved and positioned across the stainless steel roller ball work surface.
Scotch® High Performance Filament and Reinforced Strapping Tapes secure packages with maximum holding power and durability.
For five panel folds, full overlap, telescoping, tuck fold and other non-standard packages, the 3M-Matic™ L-Clip Applicators S-867 and S-867 II provide cost-effective, time-saving solutions by applying pre-fed 4.5" clips of tape securely with less effort. Apply clips at up to 50 per minute.
Capabilities & Features
Quickly, accurately and reliably close a variety of non-standard packages including those as narrow as 1.5'' when using the optional narrow box attachment
Consistent tape leg length of 4.5" helps prevent waste
Apply clips of Scotch® Filament and Reinforced Strapping Tapes up to 36mm wide
Durable rollers buff tape down for consistently secure closures
Air pressure and flow controls positioned to reduce unnecessary adjustments, improve ease of maintenance, access, and increase floor layout options
Oil-less operation helps reduce maintenance
Convenient access cover for easy tape threading
Service interlock valve designed for safety
Package contact plate activates tape application easily and safely
Compact and easy to install
Heavy duty one-piece frame for durability and stability
Non-electric for economical compressed air operation